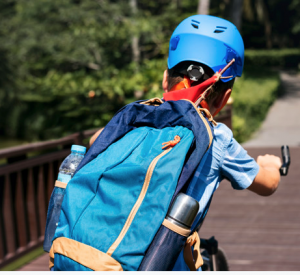 In communities throughout the United States, school aged children are riding bikes to schools, parks, and other destinations without wearing a helmet.  For some kids, helmets may be considered not so cool or somewhat of an inconvenience.  For parents, making a child wear a helmet is just another argument to avoid.  While there can be some hassles along the way, it important for children and adults alike to wear a helmet while riding a bicycle. It is just as important to wear a helmet during a short ride as it is for a longer ride.  An accident or crash can take place at any time and even as close as a child's own neighborhood or driveway.
Recently in Kentucky, lawmakers have proposed a bill that would require children ages 12 and under to wear helmets. The senators behind the bill claim that they intend to protect children and make bike riding a safer activity for more people to enjoy. According to patient educators in Owensboro Kentucky, brain injuries are the most serious common injuries associated with biking accidents. The bill is also lenient in that it will give courtesy warnings to children and their parents on the first offense. The concept behind the bill is that enforcing helmet wearing on bikes at young ages will increase helmet wearing as children grow into adults.
Efforts such as those being made in Kentucky are occurring all over the united states as the protection against head trauma grows more serious a concern. According to the World Health organization, injuries to the head or neck are the main cause of death and disability in motorcycle and bicycle accidents. With many parents opting to let their child ride a bicycle from a young age it is imperative that one considers having their child wear a helmet. Almost 50 thousand bicyclists were hit by cars in 2013 and one of those accidents could be your child when you least expect it. With many children commuting to their school via bike, a conversation over the effectiveness of bike lanes, simple traffic rules, and the requirement of a helmet can significantly reduce the chance of a bad accident occurring.