By Benjamin A. Klopman, Attorney and David Wolf, Attorney
Published by Child Injury Lawyer Network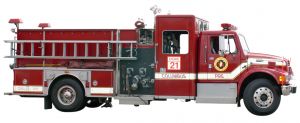 In Prince George County, Maryland, firefighters responded to a fire at an apartment complex. It was reported at the Firefighting News website that the fire was brought under control in 7 minutes. Children from a day care center were evacuated for safety reasons and the risks of injuries from fire / smoke inhalation / and / or danger from the damaged building. No injuries were reported.
This incident shows the importance of having evacuation plans in place when there is an unexpected emergency or incident like a fire. While fires in or near day care center will not happen at every day care center, these incidents cannot be predicted. It is far better to be prepared for an event like a fire rather than rely on probabilities and statistics. When a child's safety is at risk, planning and procedure are of paramount importance.